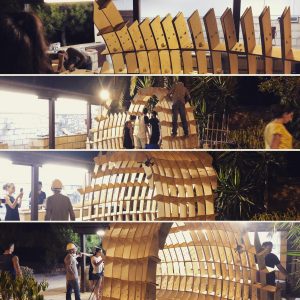 In July 2018, the MAKERSPACE project managed by the
Cyprus Interaction Lab for the Youth Board of Cyprus,
hosted the Annual Summer School of the Cyprus
Architects Association. The Summer School involved the
design, prototyping and construction of a 1:1 pavilion that
was installed in the yard of the building. The participants
utilised most of the equipment and facilities at
MAKERSPACE including visualising their design in VR,
prototyping and brainstorming. The outcome of their two-
week workshop was presented to the municipality and the
youth board in an event in August and will remain on site
open to the public.
The workshop was supported by the Research center on Interactive media, Smart systems and Emerging technologies (RISE, http://rise.org.cy).