The Cyprus Interaction Lab presented the 3-days seminar " End-User Development and Creativity Graphic Arts in the Design of Interactive Systems with Technology" by Carmelo Ardito, Assistant Professor at the Computer Science Department of the University of Bari "Aldo Moro" (Bari, Italy). The seminar was funded under the Erasmus+ for staff teaching grant n. 2015-1-IT02-KA103-014384 awarded to Carmelo Ardito by the Italian consortium "TUCEP". The highly interactive and hand-on seminar was attended by 20 participants on a first-come-first-served basis.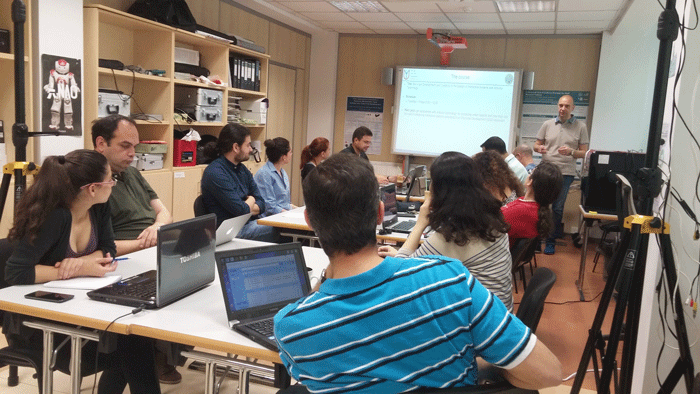 Seminar Abstract:
Exponential technological advances push end users to evolve from a traditional role as passive information consumers to a more active one. Users are increasingly willing to shape the interactive systems (e.g., software applications, web services, smart objects) they use to adapt it to their needs, tasks and habits, by manipulating and tailoring interactive artifacts, in order to create new configurations or new designs.
However, developing new or modified interactive systems that effectively support users' goals still requires considerable expertise in programming that cannot be expected from most people. Thus, one fundamental challenge is allowing users who do not have background in programming to develop or modify their own applications, with the ultimate aim of empowering people to flexibly employ advanced information and communication technologies.
According to End-User Development (EUD) theory, tasks that are traditionally performed by professional developers are transferred to end users, who become co-designers of the tools and products they will use. Of course, end users have to be supported in these new roles as designers and developers.
During the seminar, students will learn EUD theories and methods to build advanced interactive systems which exploit new technologies (such as Mobile Computing, Internet of Things, Arduino) and can be configured, adapted and evolved by their end users. For the main part of the Seminar, students will participate in hands-on activities aimed at designing and creating their own smart artefacts.