The Centre on Interactive Media and Smart and Emerging Technologies (RISE; http://www.rise.org.cy) was funded by EU through the TEAMING program of HORIZON 2020. The project aims at the establishment of an interdisciplinary Research Centre in Cyprus to integrate research in the Visual Sciences, Human Factors and Design, and Communications and Artificial Intelligence. The grant awarded was 0.5 million EUR in Phase 1 (2015-2016) for the development of the business plan for the Centre. In Phase 2, the grant awarded was over 30 million EUR (2017-2024) for the establishment of the Centre. RISE brings together the three state universities in Cyprus (several research labs; four from CUT) together with two leading foreign Universities (UCL in UK and Max Planck Institute in Germany) which are supporting us in setting up the Centre.

Members of the Cyprus Interaction Lab have an active role in RISE, with Andri Ioannou being the Team Leader of the EdMedia Multidisciplinary Research Group (MRG). The EdMedia MRG is aiming towards applied research and innovation on interactive media, education and edutainment with emphasis on serous games.


EdMedia MRG


Description:
EdMedia MRG aims to advance digital learning, defined as learning facilitated by technology or instructional methods, which makes effective use of technology (i.e. game-based learning, computer-supported collaborative learning, learning in AR, VR, and mixed reality settings, etc.). EdMedia-MRG will focus on research and innovation on interactive media for Education (media designed to educate through entertainment) with emphasis on STEAM education in formal, non-formal and informal learning settings.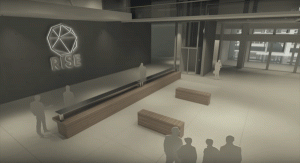 Team members: 
Assistant Professor Andri Ioannou (Team Leader), Postdoctoral Researcher Yiannis Georgiou, Postdoctoral Researcher Olia Tsivitanidou, Professor Panayiotis Zaphiris
Expertise and capacity:
EdMedia-MRG has three main lines of R&D: (i) Immersive and embodied digital environments for STEAM education. Immersion and embodiment are considered as of the most profound attributes of educational interfaces grounded on VR,AR, MR and have opened up new opportunities for STEAM education; (ii) IoT tools and STEAM education. EdMedia-MRG will force new directions in learning and training by applying a new generation of inexpensive technologies in the era of IoT (e.g., Raspberry Pi, Arduino boards, sensors and actuators, robot construction toolkits, microbits, etc.) to allow anyone (and particular young learners) to undertake authentic projects in  STEAM; (iii) Gaming applications and gamified STEAM learning. This direction is directly related to the contribution of the EdMedia-MRG in the iNicosia flagship project. From an educational perspective, it is important to educate people and provide them with smart and engaging applications via which they could actively involve in data collection process for enhancing the life quality in their city; (iv) Computer-based assessment in STEAM non-formal and informal learning. EdMedia-MRG will focus on the study of ICT in facilitating the automatization of analytical procedures, provision of immediate feedback and adaptation of assessment.
Strategic Relevance:
EdMedia-MRG is in-line with all S3Cy priorities. The innovative and interactive tools for formal and non-formal STEAM learning will aim to promote learning of scientific and socioscientific issues including energy, the environment, health, heritage etc. and will have a positive impact on long-term knowledge building and innovation in these priority areas of S3Cy. In other words, the technological innovation in formal and non-formal STEAM education will support youth and a Cyprus society which identifies with and chooses careers aligned with research and innovation across all S3Cy strategic priorities (i.e. Energy, Agriculture, Food Technology, Sustainable Development and Health). EdMedia-MRG work can help to increase young people's interest and awareness of in STEAM careers, science capital and workforce capital.
Strategic Objectives:
The EdMedia-MRG will engage in research and development of innovative interactive tools for STEAM education, based on ICT research and STEAM Education; this is directly aligned with the S3Cy horizontal priority areas of "Digital Education", " ICT – Software and hardware" and "Emerging Techniques". The MRG will contribute towards the enhancement of Cyprus' competitiveness by contributing to citizens' scientific and technological literacy, awareness and engagement with innovative technologies.