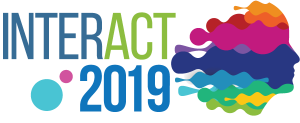 INTERACT 2019 (http://www.interact2019.org/) is the latest of a series of conferences on Human-Computer Interaction organized under the aegis of the Technical Committee 13 of the UNESCO International Federation for Information Processing (IFIP). The IFIP TC 13 aims at developing the science and technology of the interaction between humans and computing devices. The first INTERACT conference was organized in London, UK in 1984 and the most recent conferences took place in India (2017), Germany (2015), South Africa (2013) and Portugal (2011).
INTERACT 2019 runs in-cooperation with the ACM Special Interest Group on Human-Computer Interaction (SIGCHI). The 2019 conference will be hosted by the Cyprus University of Technology and supported by Tallinn University.
The Cyprus Interaction Lab is the main host of the event.
Call for papers:
INTERACT 2019 welcome contributions covering all aspects of Human-Computer Interaction. The areas of interest include but are not limited to, one or multiple the topics related to HCI. We welcome theories, experiments, tools, reviews, experiences, field work, designs and any other types of contributions through our various tracks.
We invite you to submit your original work to INTERACT 2019  in the following track categories: *Tracks with submission closing January
28, 2019*
* Full Papers (peer reviewed), abstract due by January 14, 2019
* Workshops (juried)
* Field Trips (curated)
Tracks with submission closing April 8, 2019
* Courses (curated)
* Short Papers (peer reviewed)
* Interactive Posters (juried)
* Demonstrations (curated)
* Panels (curated)
* Industry case studies (curated)
* Doctoral Consortium (juried)
Tracks with submission closing July 12, 2019
* Student Design Consortium (juried)
All contributions follow a reviewing process being peer reviewed, juried or curated by the members of the international program
committee. Student Design Consortium and papers accepted in workshops will be published in the adjunct proceedings. All the other tracks will be published by Springer in the LNCS series.
Contributions should be written in English and be formatted according to the Springer LNCS template available at:
ftp://ftp.springernature.com/cs-proceeding/llncs/llncs2e.zip
Submissions should be sent at: https://new.precisionconference.com/interact
More about INTERACT 2019 at: http://www.interact2019.org/